As the Co-Founder of Omniview Tech (now a Volatus Aerospace company) one of the biggest distributors of drone technology in Canada, Pedram Nowroozi has spent a lot of time listening to the needs of end users and finding the right solutions for his clients. As CTO of Volatus Aerospace, he has taken that deep understanding and love of robotics and applied it to developing drone technology.
Nowroozi recently oversaw the production and planning of the AERIEPORT nesting station. Although it may be the newest addition to nesting station technology, Nowroozi's team of six engineers did a lot of market research to look at what was missing in the space.
"One of the initial tasks of the team was to identify what was missing in the nesting station market right now," began Nowroozi. "We found that they were missing some key capabilities, namely detect and avoid, the ability to operate in extreme weather, and a lack of redundancy on key safety systems. Typically, the nesting solutions out there are designed just to recharge, swap batteries, and upload data, they weren't designing for extreme operating conditions or regulations. We wanted to provide a turnkey solution that is based on safety where everything is already built into the nesting station and ready to go."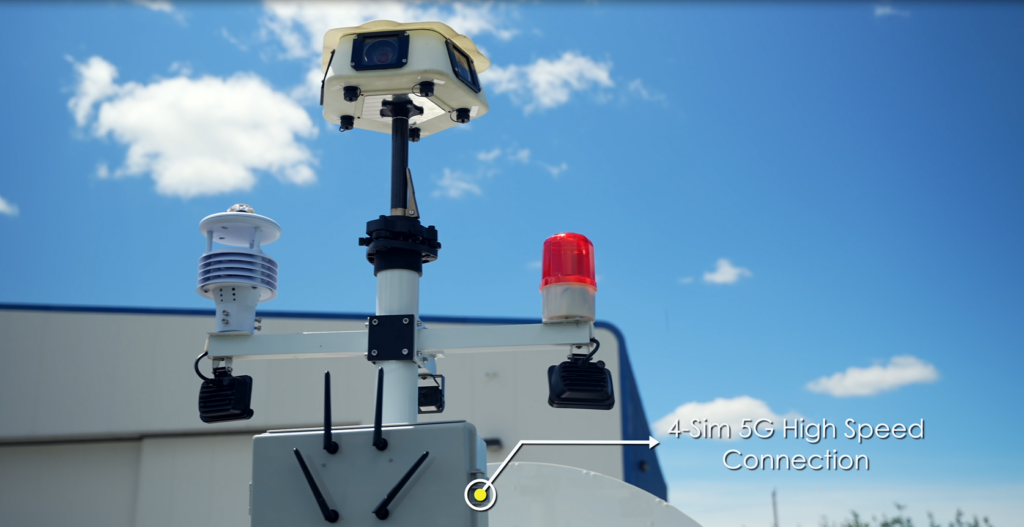 To fill in the gaps of other nesting stations in the market, Nowroozi's engineering team took a safety-first approach ensuring that whatever they designed would meet rigorous global regulation standards. This included having a ground based detect and avoid system from Iris Automation, a micro weather station for determining operating conditions, 4 LTE SIM slots and SATCOM capabilities, and many other redundant systems built in. Additionally, the AERIEPORT can withstand extreme temperatures from -55 to 55 C (-67 F to 131 F) and can work completely off grid with solar or wind energy, making it capable of operating in some of the most remote and extreme conditions on earth.
From the beginning, the AERIEPORT team was focused on enabling use cases for beyond visual line of sight and every design was in step with regulatory standards.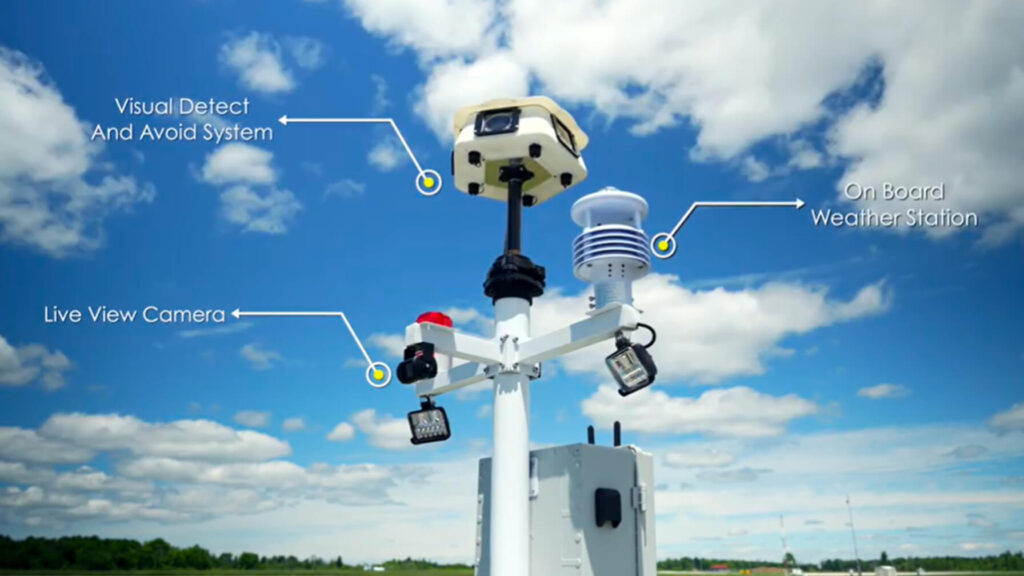 "We started with the goal of making BVLOS a reality," said Nowroozi. "There are a lot of drone applications where this capability is going to be critical. We want the system to be able to take on multiple different tasks such as pipeline inspections, railway inspections, mining security and mapping. Whether they're capturing data or trying to compile a 3D model or orthomosaic, we want to be able to support those applications where they need it."
A major way the AERIEPORT enables this kind of multitasking is that it was designed to be platform agnostic and scalable. If a drone can collect the data, the AERIEPORT can pair with it and conduct the mission.
"We made the platform drone agnostic to make sure that as aircraft become bigger or smaller and payloads change, we can always incorporate them," stated Nowroozi. "To do that we've made the AERIEPORT based on an open-source system so that it gives us room to grow. We didn't want to restrict what it could do to X or Y. Everything can be restructured and reformatted to meet the requirements of the client and future regulations. We'll keep advancing the technology in whatever shape it may need to take."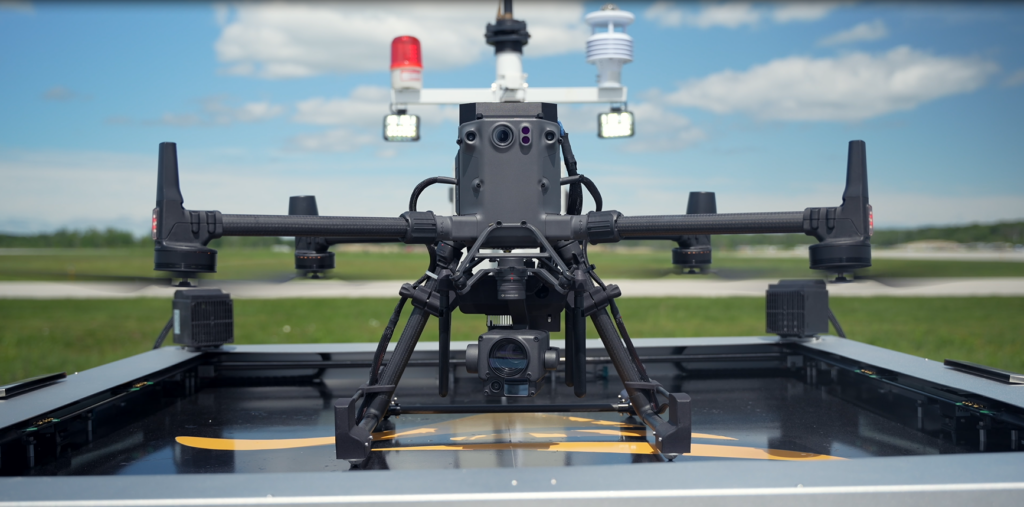 In addition to enabling beyond visual line of sight operations, the key benefit of nesting stations is repeatability. Data can be collected remotely at daily, hourly, or weekly intervals, completely changing the way businesses and organizations collect and utilize data.
In most instances, crews are sent out to visually inspect their assets and conduct repairs when necessary. Without a drone that would mean climbing up towers and poles, walking long and dangerous terrain, or stopping critical transportation lines. Because of the challenges and sheer size of these assets, the cycles of inspections are long and can take years to complete. The idea of getting a visual record even monthly of the same spot is virtually impossible. But with nesting stations and beyond visual line of sight capabilities, this data can be collected as often as anyone needs and can move along a linear or predetermined path without needing to turn back to the original Nesting station.
"We've made the nesting station and the Aircraft as separate nodes so that they're not tied to each other, you can take off from any nest and land in another nest," explained Nowroozi. "That is basically the long-term goal to make things more efficient, drones can continue to hop from station to station, daisy chaining from one area to another until they get to their destination or complete their mission."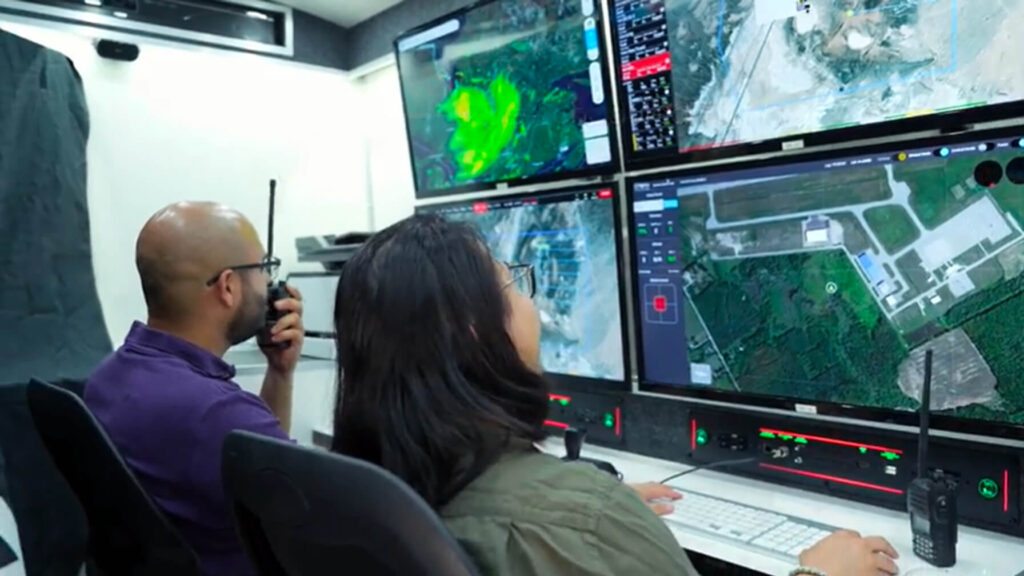 The data sent from these nesting stations can be monitored over time. This way inspectors can determine not only what needs to be fixed today but build out maintenance schedules for the coming years based on the condition of component parts. Each time the drone flies, more data is added and can build on their understanding of how parts and structures degrade overtime based on their location and weather conditions. Instead of systematically examining each and every pole, length of pipe, or rail junction over a several year cycle, maintenance workers can go directly to the spots that need immediate repair and can plan ahead for the resources they'll need for future repairs—saving time and money by better utilizing resources.
Considering our aging infrastructure and what happens when these systems fail—faulty electrical systems sparking wildfires, oil leaks from pipeline ruptures, trains being delayed, and so on—having this capability isn't only a matter of having better and more frequent information (important in and of itself), it is also about getting ahead of disasters that can impact lives, disable service, and increase costs, while enabling communities to have better services and access to goods.
"I see drones being incorporated into our everyday lives," explained Nowroozi. "For example, the cost of getting goods to some of the Indigenous communities in Canada is incredibly expensive. Because these communities live in remote regions with unpredictable weather, it is a logistical challenge to deliver basic things like food, healthcare equipment and medicines to their communities. Drones can help get products from point A to point B without putting people at risk. And if the weather were to suddenly change, a nesting station can be a safe place to land to wait out it out, recharge, and continue the mission. Alternatively, they can look ahead at the local weather data being collected and potentially divert operations to another station to avoid it altogether."
The AERIEPORT is just the beginning for Nowroozi's team of engineers. They are constantly thinking up new ideas and building technology that will meet the demands of the future.
"I want us to stay ahead of the game and make sure we are producing and manufacturing technology that is forward looking," concluded Nowroozi. "I want to be prepared to roll out the technology when it is needed to enable a successful future for autonomous technology and robotics."