UAVTEK is a UK sovereign, veteran owned manufacturer of innovative unmanned systems for military and government. We are reinventing UAV's, building them to go faster, weigh less, carry more, and fly longer.
Micro UAV Quadcopter ARES
Designed and built to be agile, lightweight, robust and modular, the ARES is the ultimate multirole quadcopter. Designed to be strapped to the outside of a day sack and built to withstand the harshest environments, tested to -40° C in the field.
Able to adapt to any situation or operational requirement, giving the operator total confidence in their ability to deliver against mission objectives.
With full HD lossless zoom and a suite of interchangeable payloads the ARES provides unrivalled situational awareness that goes beyond just enabling the pilot, as this can be broadcast to multiple locations.
With an 120Kph top speed, this platform is extremely capable in wind conditions of up to 45 knots making it a high performance, robust and versatile UAV for many environments.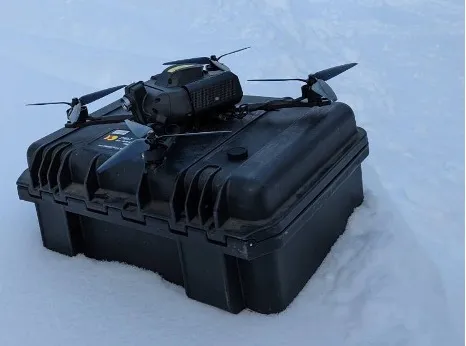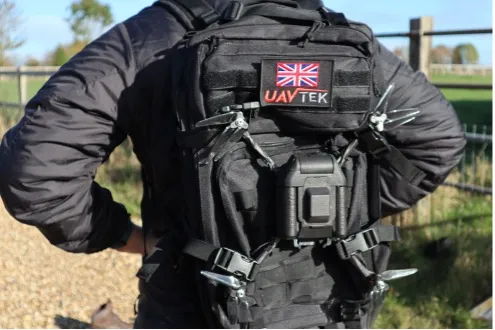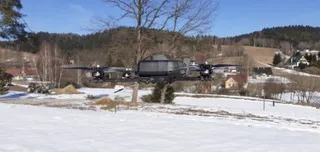 MEET THE ARES MICRO 1B UAV QUADCOPTER
The ARES offers unrivalled capability for its flight class. With HD lossless zoom, low visual and audible signature combined with the ability to extend or shorten the arms and up to 40 minutes flight time with standard 7" arms, the ARES provides greater operational agility but also increases target standoff when needed. ARES also makes use of cellular networks and MANET radio modules to easily overcome the challenge of RF disruption in an urban environment.
The ARES can easily deliver custom payloads such multi-spectral cameras for mapping, smoke grenade deployment and tactical data links allowing covert surveillance and reconnaissance for hours. The ARES platform configuration allows payloads of up to 1kg with a Max Take-Off Weight (MTOW) of 2.2Kg.
5" – configuration – up to 35 mins 7" – configuration and extended batteries – up to 40 mins 10" – configuration and extended batteries – up to 55mins
Capable in windspeeds up to 35knots with 45knots gusts, Suitable for all weather conditions, including rain and snow.
Flight speeds of up to 120kph (33m/s) and slower modes for training.
5.8Ghz supplied as standard. Upgrade to: – LTE full cellular control Tactical Radio / MANET radio options available.
Full video link range: UK OFCOM compliant standard 5.8Ghz – 3km Long range 5.8Ghz 5w – 20km LTE range -controlled from anywhere DTC Tactical radio 5w – 100km Other tactical radios range between 30-100km.
ARES is ready to swarm, it comes capable of a GPS follow the leader and is ready to accept advanced algorithms.
The ARES platform is equipped as standard with counter-countermeasures.
EXCELLENT VALUE FOR MONEY
Competitively priced and versatile. Expensive payloads only flown when needed.
| | |
| --- | --- |
| | |
| | Depends on arm configuration |
| Weight (Standard battery) | |
| Max Take Off Weight (MTOW) | |
| | |
| | |
| | |
| | |
| | |
| | |
| | 5.8 Ghz / 2.4 Ghz* / Cellular* / Tactical Radio* |
| Fully autonomous mission capable | |
| | EO 5Mp, Ti 320 ( base model ), Video steam 1080p |
| Range with full video link | |
| | Dumb swarm, follow the leader |
| | |
| | |
*Full Specification & Options List Available on Request